Student Project TrueStep Takes 1st At Design Competition
A four-person team of students at the University of Houston's Cullen College of Engineering has won a pair of awards for their project – a soft robotics exoskeleton – after presenting at the Excellence in Senior Design competition, held virtually by the University of Texas at Dallas on May 21. 
Competing against 12 other universities and colleges, the TrueStep project by Rukaiya Batliwala, Arnold Emeh, Tanvi Parikh and Anthony Pham took first place in the category of Texas Instrument's Best Engineering Design Award. The group also received the Out of the Box Award. Batliwala, Pham and Parikh are Mechanical Engineering students, and Emeh is an Electrical Engineering student.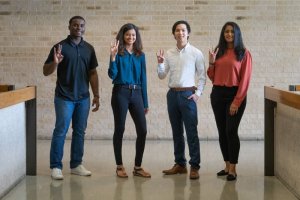 Join Engineers IRL 2023: Inspiring the Next Generation of Engineers
Brain Scans to Go: Exploring Arts, Health and Technology at MoBI Conference
Interim Industry Advisory Board Meeting Spring 2023
©2021 University of Houston. All rights reserved. UH Home Academic Calendar Campus Maps Emergency UH System Texas.gov Texas Homeland Security TRAIL Fraud Reporting Fraud & Non-Compliance Hotline Linking Notice Privacy Notice Open Records/Public Information Act Institutional Résumé Required Reports Electronic & Information Resources Accessibility Discrimination and Sexual Misconduct Reporting and Awareness University Policies
Powered by